The Reverend Canon Robert Shaw Sturgis Whitman, (July 27, 1915 - February 9, 2010), was a priest of the Episcopal Church and author of the book "Beyond Words," an inspirational work that challenges readers to accept a more rationally-based understanding of Religion.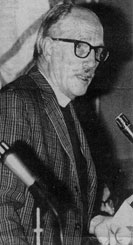 Whitman spent his formative years in Manhattan and went on to study at Harvard University. His stay, however, was short-lived. In what was, at the time, a humiliating turn, he was kicked out after his first semester for failing an advanced level history course. Disgraced and ashamed, he returned to New York and took humble posts, working as a messenger boy for a carpet company and a Wall Street bank.
It was at a party in New York that Whitman met Frances Perkins, then secretary of labor. Despite their difference in age, the two became friends and Perkins wound up getting Whitman a job in D.C., at the Department of Labor. Though again, it was a small post as a messenger boy.
Perkins and Whitman stayed in contact while he was in Washington and it was after Whitman revealed his interest in the ministry to Perkins that she encouraged him to follow his heart and attend seminary. Whitman did, going on to graduate from the Berkeley Divinity School in New Haven, CT. Reflecting back on his life's work many years later Whitman is quoted as saying, "I guess when I think about it, I've been a messenger boy my entire life!"
From 1946-1949 Whitman served as a chaplain to the U.S. Army in the Philippines before taking a position as associate rector of Bruton Parish Church in Williamsburg, Virginia, where he also served as chaplain to Episcopal students at the College of William and Mary.
The Massachusetts Berkshires served as the backdrop for Whitman's substantive ministry. He served as rector of Trinity Episcopal Church, Lenox, Mass., for thirty-one years before retiring on July 27, 1981. After a few years absence, however, Whitman returned to the ministry as rector of St. Martin's Church in Pittsfield, Mass.

Share this page!
© 2021 Back Lane Books
author links